The UNGA may not grasp it, but civil society does
The Huffington Post
Elischia Fludd
10/03/2014
The United Nations General Assembly (UNGA) ended its 69th session September 30. The focus of the UNGA session included continued work toward a blueprint to implement post 2015; the extension of the work necessary to fulfill the Millennium Development Goals (MDGs). The UNGA session provided an opportunity for civil society to gauge and advocate for commitments from each member state that will cast a vote for an outcome document that all hope will lessen factors that create and sustain poverty. One factor that member states should walk away with understanding is the notion of peace and security as one of the staple actions toward an equitable, just world that incorporates human rights, sustainable development and a culture of peace to dismantle poverty.
The UN already agrees that peace is more than the absence of war; it must be cultivated and sustained as an integral part of culture so that critical engagements toward peaceable societies are exercised consistently. The Open Working Group (OWG) on Sustainable Development Goals (SDGs) that preceded the UNGA 69th session agreed on an outcome document that supports the need for human rights as well as a goal that supports peace worldwide through the settlement of conflicts. Creating a peaceable society carries the distinction between being proactive and reactive, both of which peace can be a by-product of. Peace must be engrained in the lives of ordinary people on tangible levels, much like nationalism or ethnocentrism is devised in the hearts of peoples for generations.
Paper agreements and expressed will of member states for peace must also focus on concrete implementation that is institutionalized, systemic and robust with accountability; which is a hard discourse to engage. It is at the civil society level that discussion, implementation and evaluation are farther reaching.
Organizations like Saferworld focus on research to better understand the needs of persons living in conflict areas in the world. Gathering data via bonafide research articulates the needs of people and places effected most by guerilla, pseudo-religious, psychological, civil, and/or genocidal warfare. Research conducted by Saferworld has identified 150 possible indicators that would measure peace, a finding that negates the idea that peace cannot be identified at the national level that are possible to evaluate. Thomas Wheeler, conflict and security adviser at Saferworld asserts, "promoting sustainable peace is not about what the international community does to individual countries, but what countries do for themselves and how the international community can best support them."
Shirt says "Peaceful elections, my Responsibility". Saferworld partnership with Peace-Net Kenya supported local youth theatre groups to encourage voting without violence. Credit: Saferworld/Abraham Ali
Peace strategies to create ownership over peace and security on the national level have to be carefully employed, which includes the capacity needed for developing countries to gather their own data to assess the needs of its citizens. Wheeler suggests that "attention needs to turn to getting ministries, parliaments, civil society and citizens more engaged" so that governments can be held accountable by the members within its society. Saferworld aids national ownership of ensuring peace via implementing community security initiatives that tackle a broad range of citizen concerns in places like Kosovo, Bangladesh, Kenya, Kyrgyzstan, Nepal, Somalia, South Sudan and the Caucasus.
The challenge to engage civil society is that all levels must be engaged simultaneously to enable synergy of cooperation, investment and pride in creating and maintaining peaceable communities. Organizations like EOTO World help activists understand the intersections of the MDGs with a culture of peace to enhance their community effectiveness. Building capacity of grassroots activists on a global scale is important, but the focus on creating activists is also an inherent process within the work EOTO World engages in. Julieta Campos, coordinator of the POP (People of Peace) program, explains, "Through our capacity building programs and partnerships, a more realistic perspective about peace building can be developed."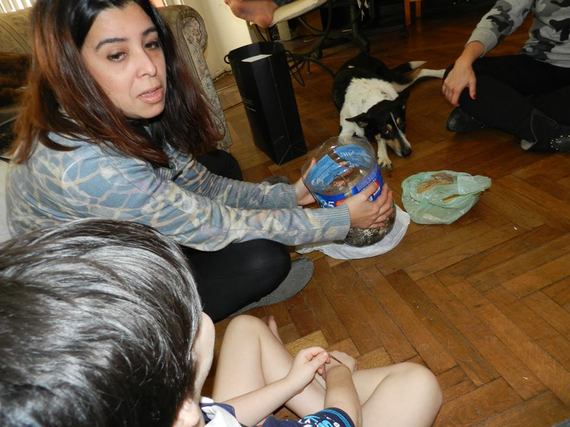 At-home demonstration of sustainable living in Argentina that included planting, composting and energy reduction. Credit: EOTO World
A focus on peace building for EOTO World is mutually exclusive with sustainable development. "POP itself is intended to teach people how to promote and live peace in innovative ways within their communities," details Campos. POP sessions are spread over a four-month period, open to the public, and has expanded to incorporate year-round support for people that commit to engage in acts of peacebuilding such as in-home workshops on sustainable living that Campos has given in Argentina. Campos views the work she does as an example of how the post 2015 agenda can move forward effectively on smaller scales. Campos insists, "people need to commit within their communities and with their local leaders to achieve the goals proposed for the post 2015 agenda. Without commitment and initiatives, the agenda will not move forward."
If the post 2015 agenda is to lay a road map for a more robust and accountable future of human rights, equity and sustainable development, it will be essential for innovation to be on a level where it reaches people where they are. Organizations like Breakthrough undertake initiatives that challenge perceptions of Violence Against Women (VAW) on the level their audience is. Breakthrough continues to hold men to pledged acts opposing VAW, a success that recently inspired Comedian Dean Obeidallah to co-produce a comedy show with male comedians to draw awareness to VAW while inciting a few laughs. "Americans love comedy, in fact, I recently learned that whether it's Hollywood or just TV networks, that comedy is the second leading most popular genre of entertainment for Americans. So we know that making this conversation about violence and discrimination light, easy and fun, it invites everyone to the table to help them see the role that they play in ending violence and discrimination against women and girls," explains Phoebe Schreiner, Vice President and US Country Director of Breakthrough.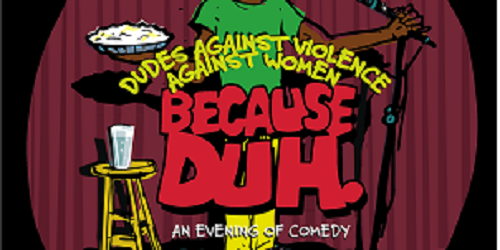 Credit: Breakthrough
Violence Against Women and Girls (VAWG) threatens peace and security, a factor the post 2015 agenda must weigh in proportion to sustainable development, human rights, conflict resolution and peace building. The work of Breakthrough on disrupting social perceptions of gender roles and resulting violence in ordinary spaces is what must occur to create a peaceable world that women and girls can enjoy to the fullest extent. Breakthrough takes awareness to the next level in entering traditionally male gendered spaces to bring the issues that are acknowledged as just for women. Schreiner reveals that the organization will continue to work with the entertainment industry to encourage leadership from the inside, explore partnerships with fraternities to end sexual violence on college campuses, and engage NASCAR and football fans with the message that anyone and everyone can step up to challenge violence. "We're going to be launching some programming, some PSA's and some community engagement initiatives," says Schreiner.
With the help of civil society organizations, citizens, governments and local authorities, the implementation for post 2015 will become more cohesive. The start to strong implementation that is innovative, relevant and effective is stronger language within the outcome document that will result from international negotiations. Member states should look to examples from civil society to gain insight into how stronger language advocated for can be scaled to fit national and international interests.
Note 1: Saferworld and EOTO World are members of Beyond 2015 coalition, a campaign composed of civil society organizations around the world that are advocating within the post 2015 process for a just, equitable, human rights oriented agenda that values people, particularly in the most vulnerable places. The coalition advocates for the UNGA to #aimhigher2015 to achieve robust, accountable targets.
Note 2: The author of the article is the Founder and Executive Director of EOTO World
Find the original article here.