Bangalore rape cases: protest continue demanding strict action against accused
International Business Times
IB Times Staff Reporter
07/23/2014
Parents, women's rights organizations and NGOs organized a silent protest in Bangalore against police and school authorities demanding strict action against the guilty.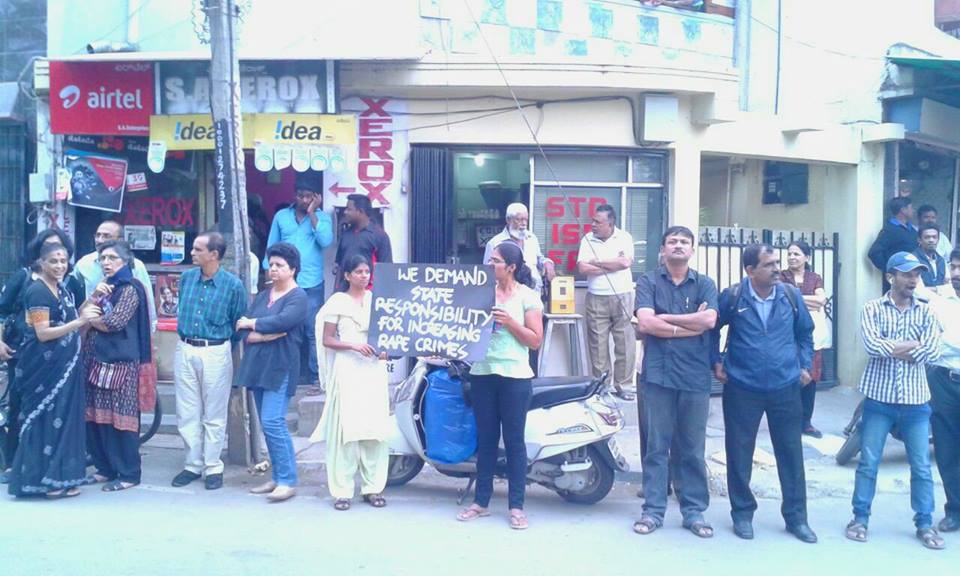 The protest-march started from Everest theatre inBangalore and concluded in front of Pulikesh Nagar Police station. The protest was organized to askBangalore police to deal with rape cases more sensitively and to respect the survivor.
Last week, a 22-year-old post-graduation student was abducted and raped by a group of young men in Frazer town. When the survivor went to the police station to lodge a complaint, the cops not only asked her to tone down her complaint, but also revealed her identity to the public, according to Bangalore Mirror.
"I would like to bring to your notice the painful act that has caused further trauma for me and my family by the police and the television channels who revealed my identity, address, phone number and my photograph. Due to this, my house has been surrounded by the media," survivor in her petition said.
The protest march, which was held on Monday, was attended by more than 150 people. Breakthrough, a global human rights organization working towards making the world a safer place for women and to give out the message that violence against women and girls is unacceptable, also participated in the protest march.
Apart from the 22-year-old, a 16-year-old girl, who was undergoing training to be a nun, was allegedly raped at a seminary in Bangalore. A six-year-old school girl was also reportedly raped by two staff members on 2 July in her school, but the incident came to light only after the Frazer Town incident was reported.
"The incident is very unfortunate and whoever is responsible should be hanged. We are cooperating with the authorities and all CCTV footages have been given to the authorities and the staff is available for investigation. We have left no stone unturned to maintain the safety of children. I assure you of justice. I am there for all of you. The guilty will be punished," the school founder Rustom Kerawalla told Press Trust of India.
Find the original article here.